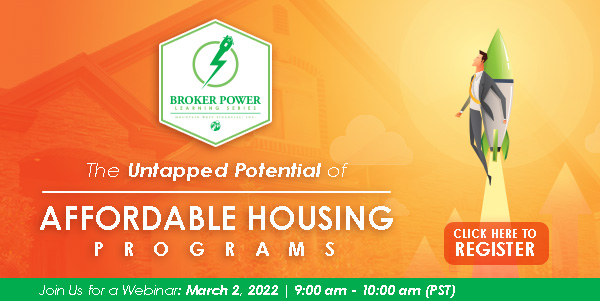 Broker Power Learning Series: Affordable Housing

Today, many originators are dismissive of down payment assistance (DPA) and affordable housing programs. What if we told you that they're faster and easier to do than you think? That they can effectively expand your client base and be another lucrative avenue to increase your business?

Join us as our affordable housing expert, Nancy Obando (SVP of Strategic Products & Affordable Lending) will provide her insights into how you can use down payment assistance to better serve homebuyers while increasing your bottom line.

Discussion Topics Include:

What are DPA programs?
Who do DPAs help?
How to effectively use affordable housing in your business

Webinar Title:

 The Untapped Potential of Affordable Housing Programs


Dates: 

Wednesday, March. 2nd


Time:

 9:00 a.m.  – 10:00 a.m.

(PST)
Expert Speaker(s): Nancy Obando (MWF SVP of Strategic Products & Affordable Lending)


You don't want to miss
this event!

REGISTER TODAY!